Welcome to our Blog!

We have worked with hospitals who experience recurring problems with delivering patients to their diagnostic and treatment appointments on time or who find empty beds sitting up on the floor with no environmental service worker scheduled for cleaning. Sometimes the stories remind us of the above picture.
New patient flow technologies help solve these problems by supporting processes such as matching available beds with incoming patients, requesting tasks to be performed, selecting the appropriate employee to perform those tasks, monitoring the progress of those tasks, identifying the necessity for remedial actions, and reporting on performance and roadblocks.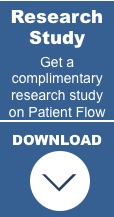 The benefits of implementing patient flow solutions are fairly well documented. They include decreased length of stay, increased bed availability, fewer ambulance diversions, increased revenue potential, and higher patient satisfaction. While many hospital executives believe that patient flow and logistics solutions have the greatest potential to improve patient throughput at their facility, many state they lack the appropriate tools to measure, monitor, and predict events critical to patient flow.

We will be talking more specifically in future blogs about what hospitals are doing to improve each segment of the patient flow cycle. In the meantime, you can learn more about patient flow technology by downloading a research study that we thought would be helpful.

– Ron Gregg, CEO